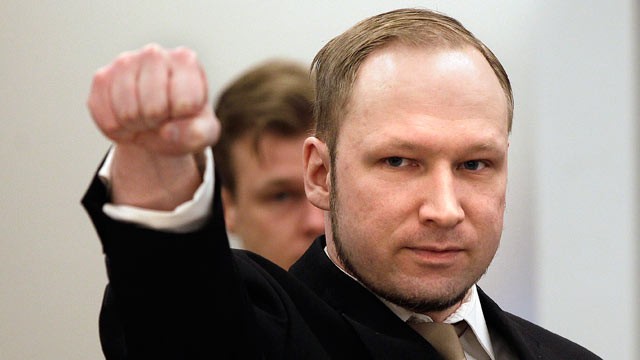 Anders Behring Breivik is insane.                    
Not because he allegedly committed the crime of murder in killing 77 Norwegian citizens for which he (hopefully) will be convicted and sentenced.
Nor because he holds political views, I find abhorrent to the point of obscenity. I will happily defend his right to freely hold these views in a democracy.
However, what makes him insane in my opinion is his use of his political opinions as a justification for the "necessary" murder of his fellow citizens. This distorted thinking is the true insanity: where the natural common bonding given to us all by virtue of being human, that allows us to have positive feelings such as sympathy and pity, is broken, superseded, replaced by an egotistically thought-up political ideology. The ideas he has about the organisation and content of the society he would like in Norway (the culmination of pseudo-research via Wikipedia) have become more important, in his mind, than the right to live for 77 fellow Norwegians. This is insanity.
It is a definition of insanity that applies to all: any terrorist organisation be they left or right, be they Zionist or anti-Zionist, be they IRA or UDA, al Quida or CIA etc. any use of political ideology as a justification for killing unarmed innocents is an act of insanity as well as murder.
There are those who may argue certain acts were unavoidable in a particular conflict situation – this I have great difficulty in understanding. Although this way of thinking is often used as a form of mitigation for their crime, this does not escape the clear fact that they have committed a crime.
There is no such argument for anyone who says, as Anders Behring Breivik has, that murder was "necessary" on political and ideological grounds.
Only insanity.